"You're a fool whether you dance or not, so you might as well dance."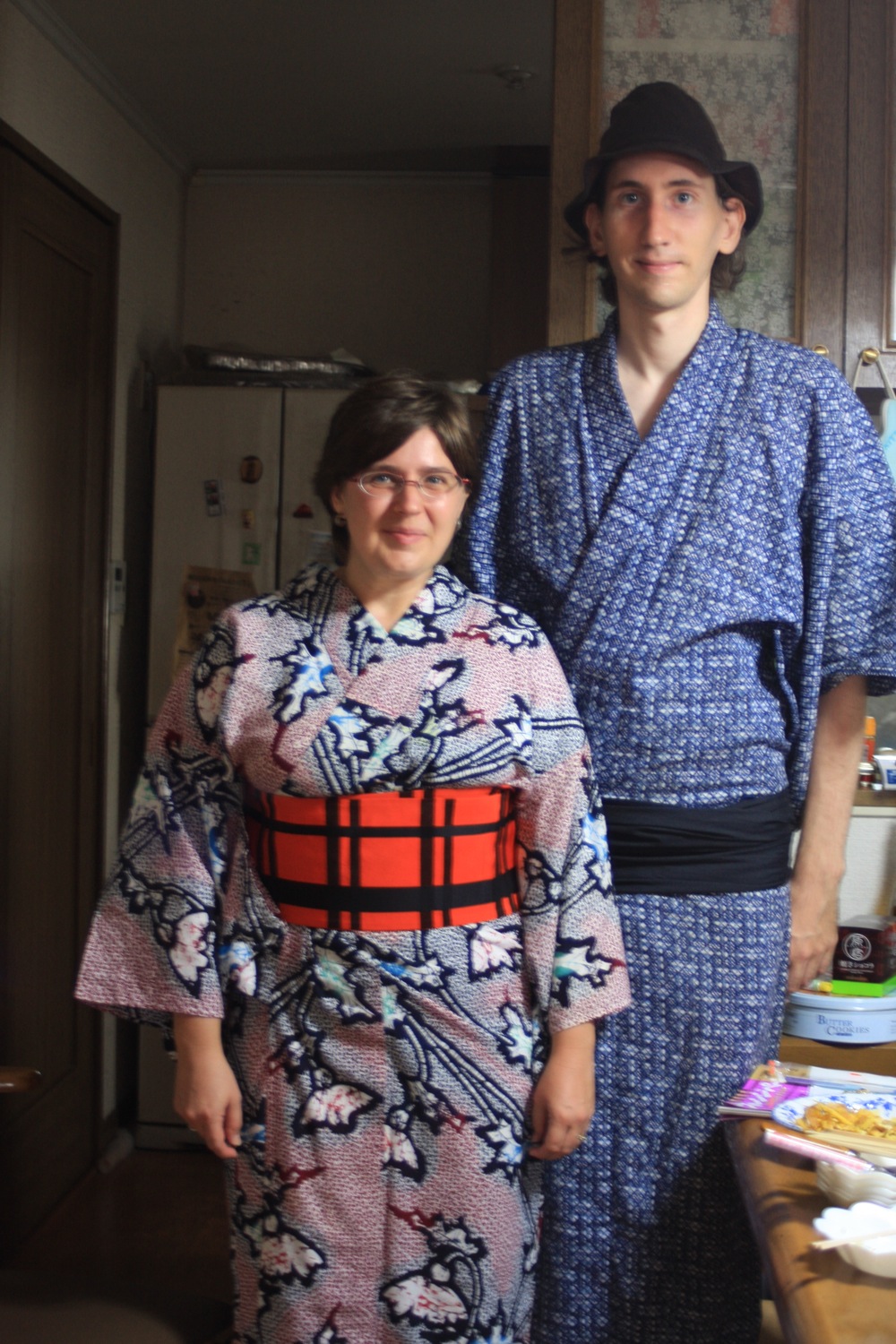 So states the traditional lyrics of the Awa O-Dori song (O-Dori means dance). Developing over the years from a local celebration into the largest festival in Shikoku. Wikipedia claims it is the largest dance festival in Japan, but I am sceptical, thinking that honour belongs up north … I'll have to do some more research. However, every August just over one million people surge into a city of 250,000 and dance through the closed off streets of downtown. No matter whether it is the biggest or not, that's still pretty big.
We joined the one million people this year and followed our landlady, Midori San, into the horde. Midori San is an extrovert. She loves people. She loves music. She loves dancing. She loves anything loud, exciting, and fast. She loves the Awa Dance.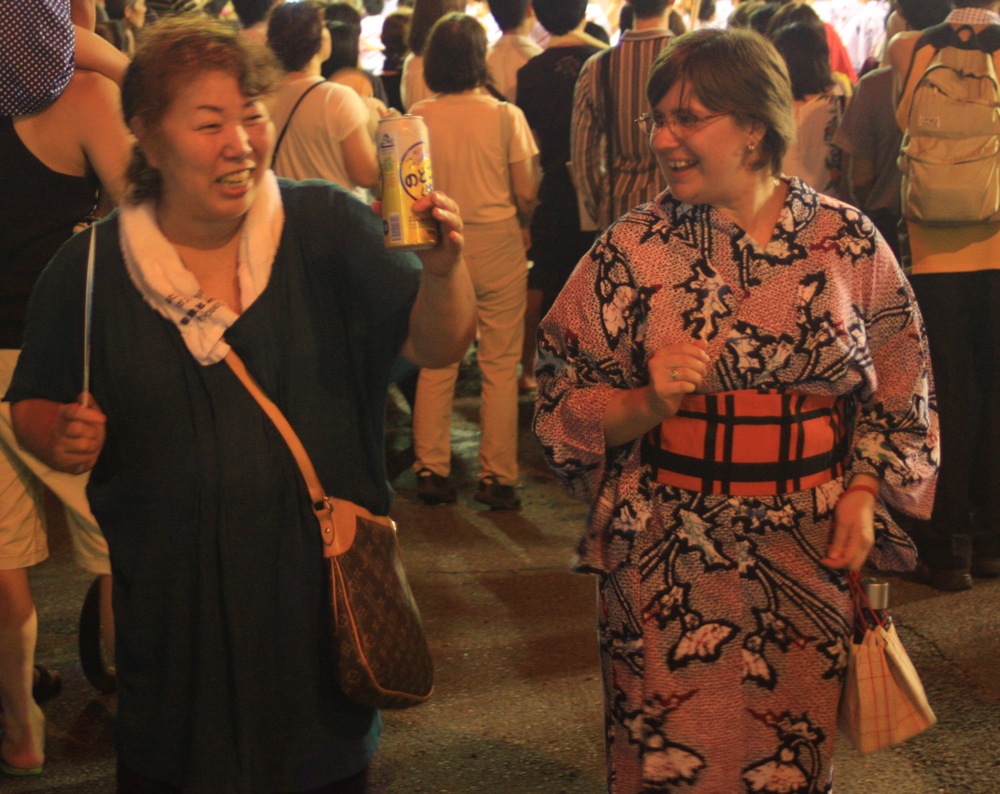 David and I are the exact opposite. A few friends, slow-cooked food, and some music at a reasonable level seem to be our perfect night out (or maybe I should say in?). But we braved the multitude and danced.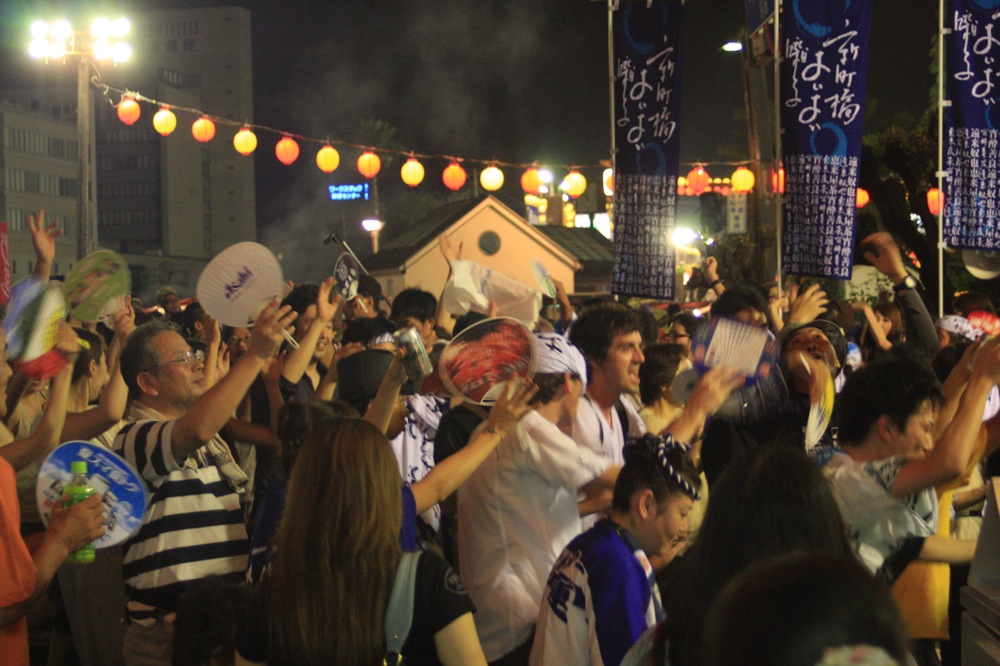 Midori San was more concerned with dancing than seeing the festival, but my favourite part of a summer fest are the lights and the food and listening to the music. Escaping Midori San's gaze, we slipped off into the crowds to walk along the river and eat fair food (Japanese fried chicken on a stick for David and for me, my favourite: oknomiyaki).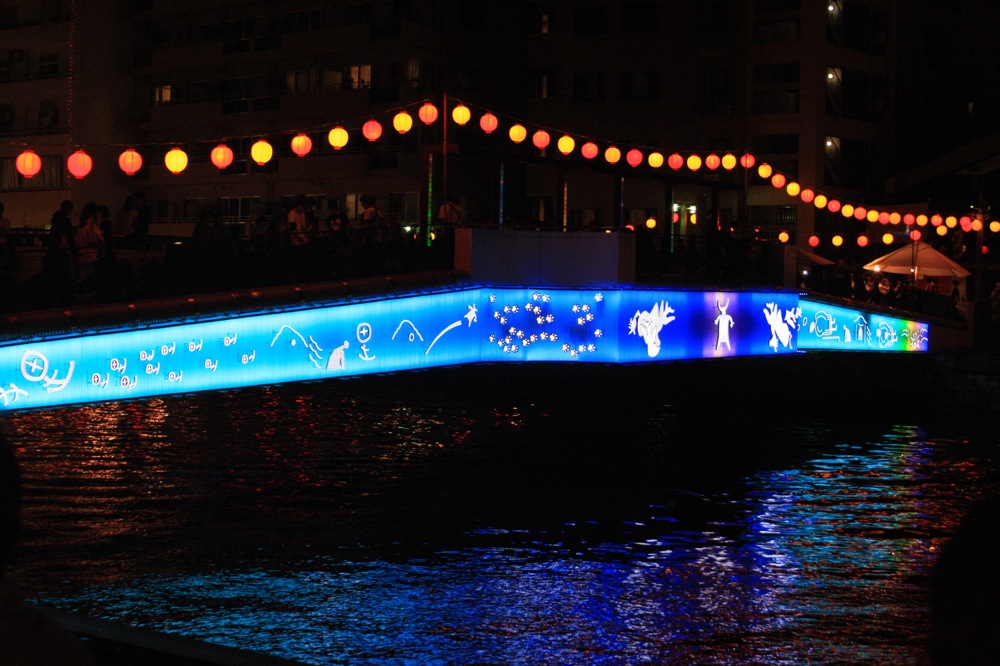 Watching the coloured lights reflect off the water, I could almost forget we were surrounded by a million people. Yet, we pulled ourselves from the view and wandered back to where Midori San was dancing.
When the dancing ended around 10:30, Midori San, Todd, David and I wandered off into the lines of stalls with their paper lanterns, smoky grilled meat, cheap plastic toys, and cries from the proprietors: "Eat our food! Play our games! Buy our merchandise!" Even in a foreign language, it is easy to understand.
Before leaving, Midori wanted a drink, so we ended up in the Bourbon Street Bar listening to live reggae music. Quite an odd ending to the evening. She had already drunk much beer, so ended up sipping a cola, while I (turning my nose up at cheap beer) ordered a Japanese whisky, and was rather disappointed. It was served with water, meaning the bartender filled a glass with ice water and waved the whisky bottle somewhere near the glass. I couldn't even tell if it was good or bad whisky for it being so watered down. For this I paid 500 yen ($6)?
Sigh.
But it's like any fair food, I suppose – I must accept it's not going to be gourmet!
Everyone in Tokushima says to go to the festival once. We did. Maybe we will even go back tonight. But, next year, we may follow the advice of the long-time residents and leave the dancing for the tourists.
---
Traditions surrounding Awa Dance:
Begun in 1587 at the completion of the castle for feudal lord Hachisuka Iemasa. After he passed around sake for the townspeople to drink, they became drunk with limbs flailing, apparently resulting in this unique style of dancing seen today.
The festival coincides with O-Bon, the Buddhist holiday which celebrates welcoming the spirits of the ancestors back to the family shrine. It is also a time for cleaning family gravestones. The traditions have developed into huge festivals across the country with dancing, music, games, and fairs.
Japanese lyrics to the Awa Dance: (Translation from Wikipedia).
踊る阿呆に
見る阿呆
同じ阿呆なら
踊らな損、損

Odoru ahou ni
Miru ahou
Onaji ahou nara
Odorana son, son

The dancers are fools
The watchers are fools
Both are fools alike so
Why not dance?