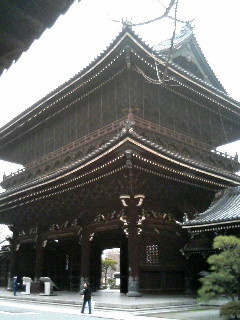 The ELCA missionaries had our retreat last weekend in Kyoto. It was good to see everyone, but also a sad time, as well, because the February retreat is when we say good-bye to the missionaries who are finishing their service in Japan. I mentioned in my email I would be meeting up with my former housemates while there. We shared a room, so that first night there was little sleeping and a lot of catching up!
Saturday was spent mostly mired in annual reports. Necessary, I know, but I really don't like to give them. We went in alphabetical order, and it's funny, but I was the last one (a surprise to me — we'll have to recruit from the end of the alphabet next year!). Actually, it was not so bad, because no one was listening anymore by the time I was up. That takes the pressure off!
For a couple hours on Saturday we were loosed from the bonds of annual reports and business meetings. A couple friends and I sampled the wares at the "Salon du Chocolat," a chocolate show from France, but currently touring the world. We did not get to see the fashion show, so I am still a little baffled as to how the models realized to wear their clothes, not eat them! However, if you have the chance, check out some fashion show pictures; they are very interesting!
After eating all those free samples at the chocolate show, we took a walk. Mmmm, but it was good chocolate!